We never expect life's tragic events to happen to us, until they do. On January 18th, 2015 my life changed in a way I never expected. It was a beautiful 60 degrees in Charlotte, North Carolina, a perfect day to go on a motorcycle ride. I jumped on the back of the R1, as I had so many times before and we set out for our ride. During the ride, we came to a stop at a traffic light.  Once the light changed, we continued on our way, quickly gaining speed; it was then that I saw the SUV going for the U-turn. I began hitting the driver of the bike, screaming, but he did not stop - I closed my eyes and tucked into the driver's back. The last thing I heard was metal crunching before everything went black.

My major injuries included a collapsed lung due broken ribs, two fractures in my back, a spinal cord injury and a traumatic brain injury. I spent my first week in the hospital lapsing in and out of consciousness, with no real awareness of what was going on.  After I became alert, my oxygen levels continued dropping and I was having trouble breathing. They urged me to have a tracheotomy, an incision in the windpipe made to aid in breathing, but I refused so their next remedy was to put a tube down my throat so I could breathe. This was not a fun experience.  After a couple of days that was removed. Shortly after the removal, my care team was inserting a suction tube up my nose to get what I could not cough up due to my spinal cord injury. Deciding I did not want to experience that again, I informed my care team I had changed my stance on the tracheotomy.  In time, I became healthy enough to be sent to inpatient rehabilitation. It was what you would expect it to be, a place to learn the skills to live as a new paraplegic. I had to learn basic skills, such as how to dress myself, take a shower, and advanced skills such as using a catheter to relieve myself. I would be discharged from rehab after 3 weeks, returning home for 1 week before getting an infection in my intestines. This sent me back to the hospital for another week and back into in-patient rehabilitation for an additional 3 weeks. Finally, I was discharged into the real world again. 

At first, I did not take the situation seriously because of a clinical trial my parents enrolled me in. After the injury and before I regained consciousness, doctors performed my back surgery.  During which, a small trial device was implanted into my spinal cord to allow the damaged nerves a conduit to pass through; in an effort to repair the damage.  I was sure it would work and I would only be paralyzed for a few months...even though I was only the second person in the world to receive the neuro-spinal scaffold. (Explanation: https://tinyurl.com/JesiTODAYSHOW)
During the follow up appointments for the clinical trial, I was not meeting the progress "benchmarks" that the other patient had set. It was here that reality set in; I was truly paralyzed, losing all hope of a 'full' life. I was angry. I was frustrated. I was unhealthy.  I had spent my first year of my injury focusing on the potentially unobtainable goal of walking again.  I started living life to the fullest for the wrong reasons. After a full year of injury I decided to dive into the world of adaptive sports; trying as many things as possible. This was the best decision I had made for my physical and mental wellness. 
 My paraplegic life began to change. Shortly after my two-year mark and a follow up with the trial where I was told I had no improvement, I fell in a hotel room and could not get myself up. I posted a meltdown video on YouTube that gained a bit of attention – spoilers it is a very raw look into my life (https://youtu.be/nDfe6jKay0w).  I quickly realized I had a platform to inspire people to live the life they want, but my negative attitude was not doing anything except bringing me down. I went home from that trip with a new perspective on life.
It was time make changes in my life, no one could do it for me; it had to be me. Slowly I began transforming myself. I added 2-3 days of physical activity to my daily life, joining the local YMCA. I then began working on my diet, trying the Whole30 diet for a few months. With newfound energy from clean eating and regular workouts, I began to focus on my mental training. Every day I would sit down, writing a list of what I was grateful for, what I was humbled by, and what I was hungry to accomplish. As time went on, so did my training. I managed to lose 30 pounds as a wheelchair user! One of my biggest accomplishments in this is my recovery from my spinal cord injury. I started paralyzed from the middle of my chest down. I have regained some sensation, core control and hip flexor. It was not until I began looking at my life from a different perspective that the healing truly began.
To this day, the hardest part of recovering from this injury have been the continuous-inconsistencies. One day everything functions normally, you believe walking is possible for you, then a few days later it's as if you were paralyzed all over again losing that significant progress. With a spinal cord injury or any obstacle in life, regular mental training for perseverance through adversity is key to an individual's success. Successful people with or without disabilities typically have the mindset that they are unstoppable regardless of limitations others try to set on them.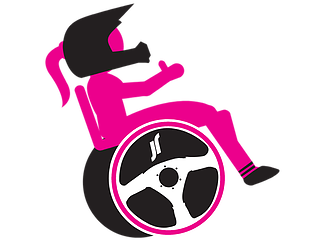 As I have continued to focus on my health and wellbeing, I began work on the biggest passion in my life, the Wheel With Me Foundation. Co-founded in 2016, this 501(c) non-profit has the goal to build a transitional community for spinal cord injury survivors. Similar to skills you learn in high school and in inpatient rehabilitation, the Wheel With Me Foundation strives to provide life skills needed to exist.  Wheel With Me House will be the University for a newly injured individual to apply and build those skills, while guided by another individual with an SCI. We currently host community meet-ups with the goal of bringing local wheelchair users together in addition to bringing wheelchair awareness to the community itself. Through our partnership with Kenda Tires we have been able to give sets of tires to numerous wheelchair users. 
I feel super grateful that this journey has put incredible companies like Kenda Tire in my life. I use Kenda for everything, literally everything.  On my daily wheelchair I love the Kontender, a fast moving tire for the athlete within.  When I am feeling spicy I throw on a set of Pink Koncept K191, an all-purpose tire. Both styles offer agility when maneuvering your chair in your day-to-day life. When I want to explore nature, I use the popular Nevegal. The tread provides the perfect amount of grip for those inaccessible conditions. On my Polaris Ace 570 I run the Bear Claw. They hook up the perfect amount for me to rip through the woods, especially in muddy conditions or creek beds. Since my spinal cord injury in 2015 I've driven over 250,000 miles between two Volkswagens. I have had two sets of Kenda car tires. I put over 50,000 miles on my first set of Kenetica's, driving across the United States through every season of weather. Through rain, snow, and ice, these tires provided grip like I've never experienced before. They are by far my favorite car tire I have ever used.  From my car to UTV to my chair, Kenda offers whatever I need to keep me rolling. With affordable options and a compassionate team, I am proud to #RideKenda. 
 I cannot tell you if I will ever walk again, but I can promise you I will make the effort to be the happiest, healthiest version of me. People ask how I maintain my drive or why I am so open; and my answer is this, "my goal is to restore hope within' that 22 year old girl in that hospital bed who was terrified of what the future held."